Standard Delivery (2-4 working days)
We offer local shipping via 3rd party delivery partners, J&T and QXPRESS. All orders will be processed for courier pick-up once payment has been made and verified. Please check the cut-off time to ensure your parcel can reach you on time.
The delivery and scheduling of your orders will be determined by us and we will use whichever courier service we deem fast to deliver to you on time. We do not provide specific delivery time slots due to the delivery routing, as well as the delivery load. All deliveries will be tracked, and you will be notified of your order's tracking number. The tracking number and link will be sent to your email as indicated by you.
FREE SHIPPING (Min. $150.00 and above)
We provide free shipping for a minimum spend of $150.00 (excluding shipping charges) and above. Join our CAARTN Rewards Program to redeem Free Shipping vouchers via the Reward Centre.
If you still need your items urgently, you would have to opt for Express Delivery charges which will incur extra delivery charges. (Please refer to the delivery charges table below).
Final shipping charges are handled by our website and delivery charges will reflect accordingly to weight of the items purchased at check out, all delivery charges will be shown before you make payment for your order.
Express Delivery (48 working hours)
Please contact us via WhatsApp (+65 8771 2271) before placing your orders and we aim to deliver to you either on the same day or the day after. We do not deliver on weekends, any wrong orders placed for weekend express delivery will be refunded as store credits.
Delivery charges will depend on your order's weight and dimension and will be shown at checkout.
0.01kg to 5kg: $15.00
5.01kg to 20kg: $30.00
SELF-COLLECTION
Self collection is strictly appointment based only, collection timing is on weekdays between 11am to 4pm.
Orders for weekend 24/7 locker self-collection must be made before every Friday, 12pm.
If you are unable to collect your items during office hours, there is a locker that is accessible 24/7 and a pin will be given on the day of collection. If you have placed your order on the weekend, the earliest self collection timing is on Monday, 11am.
Please indicate the time-slot and date that you would like to collect your items or c
ontact us directly via WhatsApp if you like to collect your orders on the same day.
Our address:
39 Woodlands Close, Mega@Woodlands, #07-18, (S)737856
DELIVERY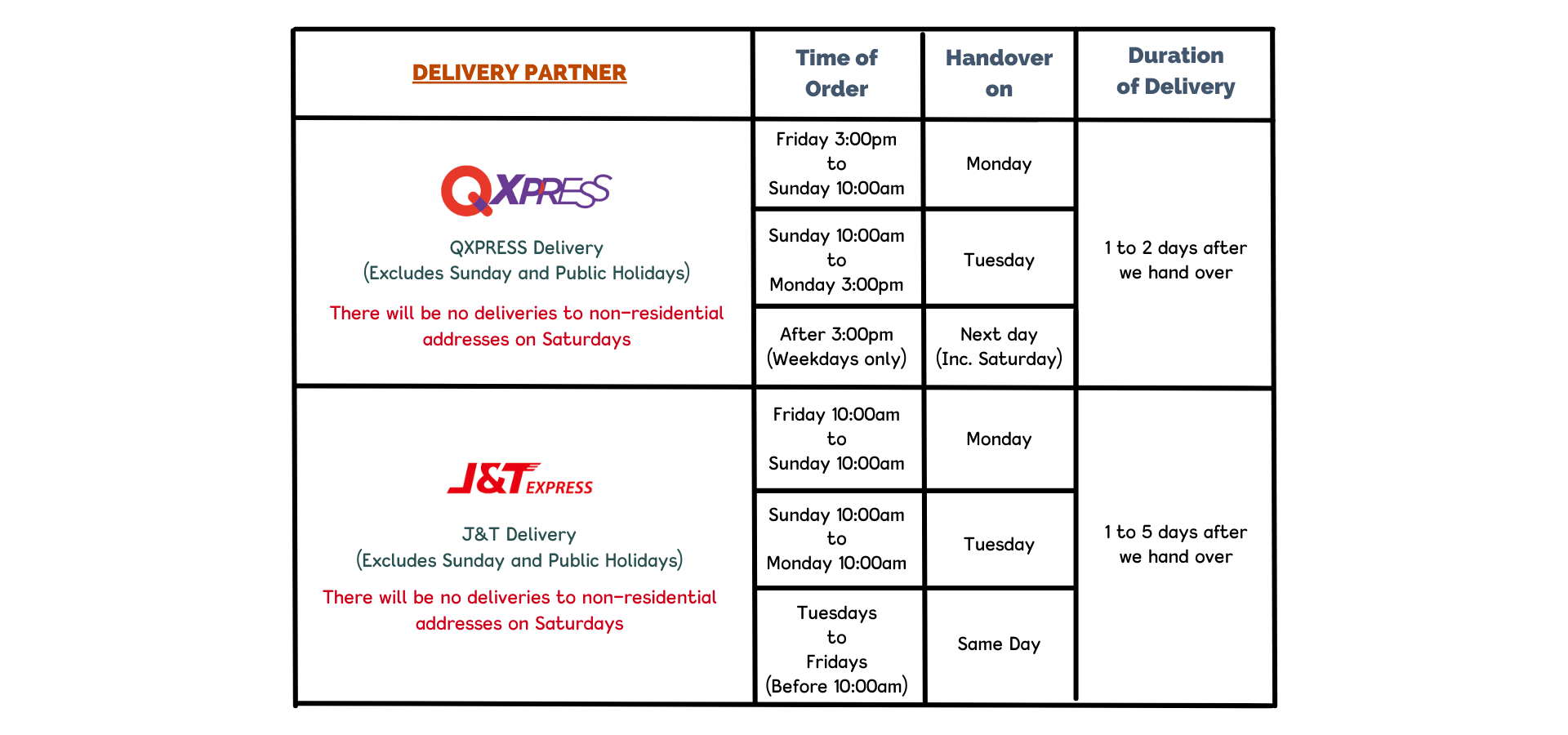 Please take note:
The above mentioned timings are only for us to handover the parcels to our delivery partner, delivery timings are as listed next to the option you are selecting.

Slower deliveries are expected for selected sale days (e.g. 1.1, 2.2, 3.3, 4.4, 5.5, 10.10, 11.11, 12.12) and peak seasons.

Do contact us to check if your items can be delivered to you if you need them urgently.
DISCLAIMER
Our dispatch/delivery cut-off times are clearly stated as above, CAARTN will not be liable for any late deliveries once parcels have been handed over to our delivery partners.
INTERNATIONAL DELIVERY
We are currently only delivering in Singapore but we do want to eventually open up the option to deliver internationally!
RETURN & REFUND POLICY
There are strictly no refunds once goods are sold.
If there are any product defects or missing items in your order, please inform us within the first 7 days upon completion of your order.
Any disputes (e.g. refunds, broken items) made after the first 7 days will be evaluated on a case-by-case basis and the management reserves the rights to the outcome of the dispute.
Any refunds processed will be automatically converted into store credits and credited into your member account within 7 working days.
By purchasing any items on our website, you are hereby complying to the terms listed above in our delivery and returns policy.